12 Inches of Sin VI
A culturally rich and stimulating weekend awaits you as we celebrate 12 Inches of Sin VI. 12 Inches of Sin is an annual art exhibition where artists from 23 countries have participated thus far. Artists and patrons from around the world come to Las Vegas for this very special event.
International artists and entertainers will provide enticing visuals for you to enjoy. Alien Tequila will provide all the necessary spirits from their giant spaceship. ArtDept.Vegas, an incredible fabrication studio off the Las Vegas Strip, will create a unique atmosphere for art and kink enthusiasts alike.
The schedule of entertainment, workshops and special guests will allow you to take advantage of an entire weekend of memorable programming.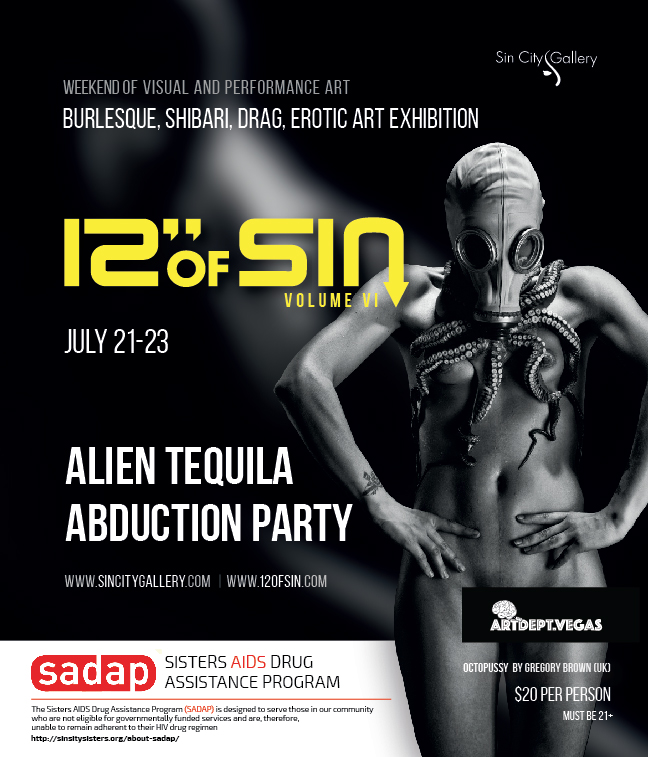 We are delighted to donate proceeds to the 501c3 nonprofit organization, Sin Sisters of Perpetual Indulgence, for their SADAP program. We love the Sisters and we know you will, too.
Tickets also available at door.
A special thank you to our Sponsors.